Which Tent Style Is Best For You?
| Cathy S
There are an amazing variety of tents out there today in different styles and materials all made for different needs and environments. The type of tent you need will depend on how and where you plan on using it. What environment will it be used in; hot or cold, or rainy or dry? How many will be sleeping with you? Will you be carrying the tent to the campsite from a car or backpacking? Below is a quick look at the different styles and uses of tents in hopes to give even the newbie an upper hand when trying to choose that perfect home away from home.
Traditional A-frame or ridge tent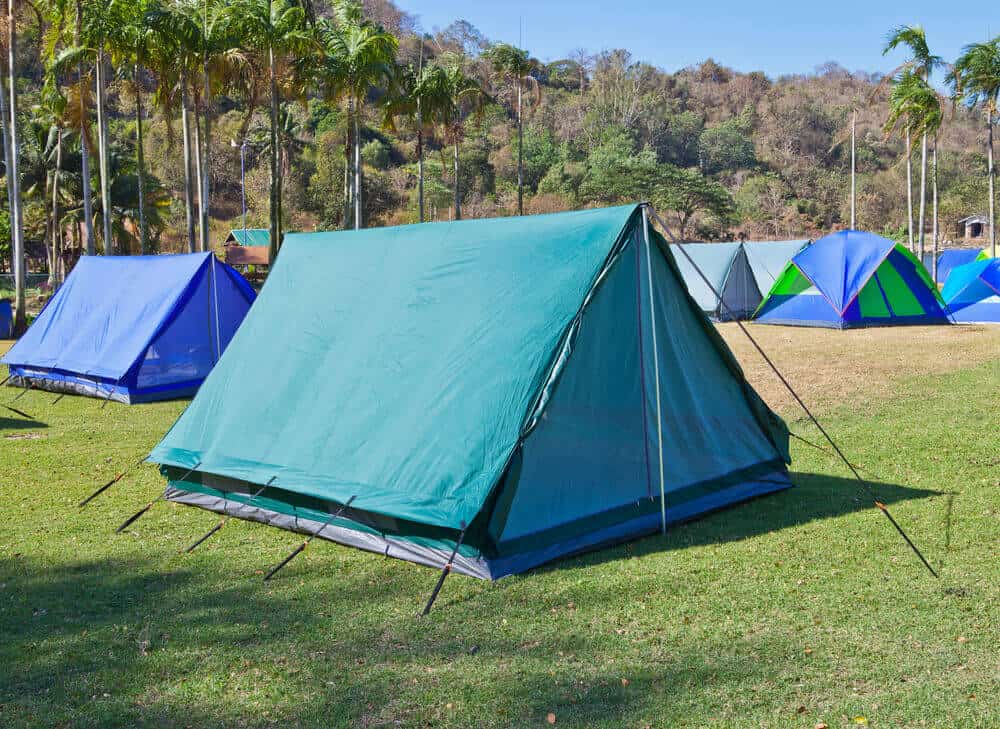 A-frame or ridge tent form in the shape of an A when erected and have been used for years. They are generally light by themselves but need an added tarp for weather protection which makes them heavy to carry around. Head room is very limited because of the steep sloping sides and they are not very sturdy in strong winds. Typically they consist of two poles at each end with a single one running down the center and the tent fabric hung over the ridge. Keeping this general design in mind can work rather well in the event you become stranded or lost in the backcountry and have a poncho or other covering in which you can make a quick emergency shelter.
The modified A-frame version utilizes curved poles instead of straight poles allowing more stability in winds and improved head and interior space. They also have a rain fly that allows you to leave the tarp at home making them lighter.
Dome tents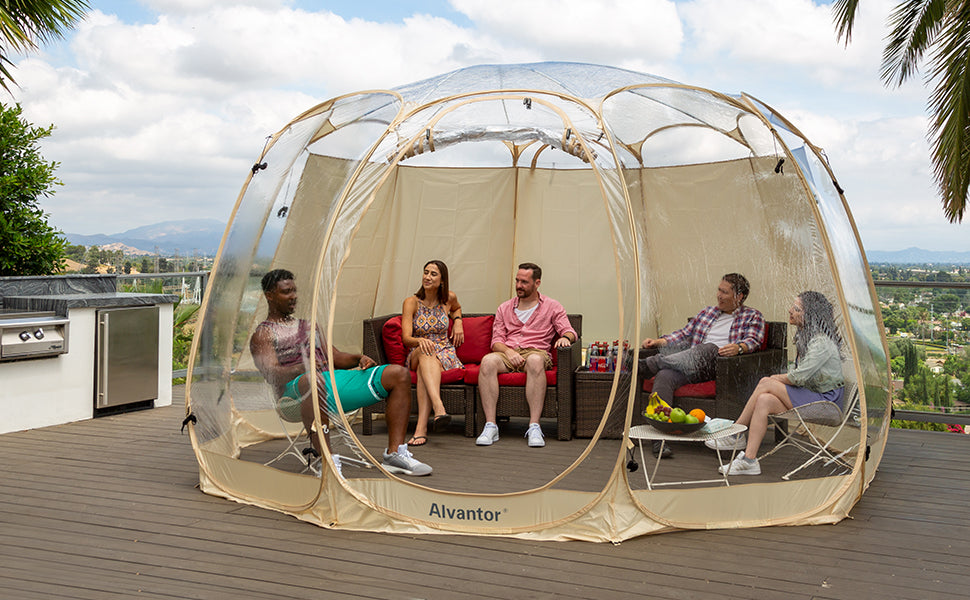 Dome tents seem by far to be the most popular today. Look around any primitive campsite and you'll see plenty of dome style tents. Construction is rather simply accomplished with a number of flexible poles passing each other across the center of the roof with their ends traveling down to the base or floor of the tent. This construction provides the tent with strong rigidity making it easy to move after set up if needed, stable in strong winds and can handle a good amount of snow fall.
These tents also provide great head room, spacious living areas and can accommodate separate rooms or porches to store gear and equipment. They can fit one person to a large family and are easy to pitch and easy to backpack with. The shape makes it more heat efficient and the rain-fly does a good job keeping the inside dry. The strength and rigidity of the design does tend to decrease as the tent gets larger.
Geodesic tents
Geodesic tents get their name and shape from crisscrossing poles across the surface of the fabric intersecting to form triangles. The tent design mimics the same geodesic design used in large dome buildings today. Using minimum material the design provides for a large rigid space distributing the stress across the structure. The central pole gives it additional strength in high wind conditions and is very easy for one person to set up. They are very heat efficient and spacious but their main advantage is the high strength and stability they provide. These tents are great in extreme environments and are easily carried by backpackers and mountain climbers.
Instant pop up tents
Instant or quick pitch tents really do erect themselves. They are constructed with a long coiled sprung frame permanently attached into the tent fabric. You twist the frame into a circular package to store the tent and simply unleash the coil to set up. They come complete with inner tents and can sleep a small family of four or five but they really are only suitable for good weather conditions. The
Alvantor® Bubble Tent
is the easiest most durable screen shelter in the outdoors. One person can set it up in about 30 seconds, and take down in to a 39.3"x2.4" carry bag
The Bubble Tent is basically a transparent apartment that you could set up pretty much anywhere you desire all in the confines of a bubble. It allows you to view the stars while you slumber, and sleep closer to nature than you ever thought possible.
Inflatable tents
Inflatable tent's are relatively new on the market and they are exactly as described. They have an air pump used to inflate the tent to its shape. When storing the tent you open the air valves and start rolling the tent up from the side opposite the door opening pushing the air out through the door opening. Their advantage is one person can set the tent up and you don't have to deal with tent poles. Although self inflating sleeping pads can be carried into the backcountry, reliability of the air pump for these tent's would limit backcountry use as well as its weight.
Tunnel tents
Tunnel tents make use flexible poles like dome tents creating even more useable space for large families. Flexible poles are bound into semi-circles and stood up in a line to create a tunnel. Some tunnel tents do use rigid poles to form their structure. They are capable of shedding heavy snow and are waterproof. Main use is for large families, kids play area, or even as tents for pets. They provide excellent stability if pitched end-on to oncoming winds but are very less stable if winds change direction.
A few other considerations
Size: Just remember bigger is not always better in tents. As size increases rigidity and heat efficiency will fall along with ease of setup and weight increase. Get a tent suitable in size as to what you need. It needs to be big enough to sleep comfortably and big enough to store packs and gear. Head room, eating space and living space are optional depending on your needs.
Material: Consider the fabric or material used in the tent. While cotton and canvas are durable they are also heavy. Nylon is light but can tear and rip in windy conditions unless protected. Polyester is good for long periods of time in sunny conditions without fading and keeps its shape. Look for a breathable coating that lets air in but not moisture.
Weather conditions: Make sure the tent you choose is suitable to the weather you will be against. Tents will have labels on them describing them as 1 season, 3 season or 4 season tents. Ensure that the tent is 100% waterproof with a rain fly that offers total coverage. And consider an area inside with you or on the porch to store gear out of the weather.
Strength: Choose a tent with double sewn seams for added durability. Strong tent poles, design, high quality pegs, guy lines and secure fastenings are important considerations.
Pitching: Is the tent easy or hard to set up? Can it be done alone or do you need two or more people for setup?
Weight: Will you be camping from the car or carrying the tent in a backpack across mountains.
Usually, the more expensive tents are made with stronger fabric, poles, and stitching. They're built to withstand stronger wind and more violent rain. A good tent, that is well cared for, can last for many years.
Remember that not everyone will need this amount of durability. The milder the weather you camp in, and the closer to home you camp, the better solution will most likely be a less expensive tents.
Which Tent Style Is Best For You? If you're just beginning your camping journey, and don't know if you'll enjoy it, you might want to start with a less expensive setup. Your first trips will probably be when the weather is warmer, and you will probably not venture deep into the wilderness until you gain some experience and decide if you like camping or not. Remember, you can always upgrade your equipment later.